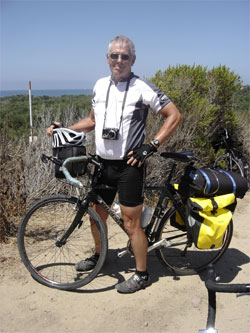 Mark Junge, a 64-year-old COPD survivor from Cheyenne, Wyo., has completed a 538-mile bicycle ride from San Francisco to Tijuana, Mexico using a portable oxygen concentrator to promote awareness of COPD.
Junge, who has approximately 40 percent of lung capacity was able to pedal his way down the California coast using an Eclipse 2 from SeQual Technologies, which he said kept him at a 90-92 percent oxygen level throughout his "Mark's Breathe Easy Tour." Junge started his ride on July 24 and completed it on August 11.
Originally diagnosed in 2002, Junge says he began working out a local gym with the assistance of portable oxygen equipment. He says the experience helped him realize how much HME can help patients with chronic lung disease still stay active and contribute to society. So, he decided the best way to demonstrate the power of POCs was to use one to ride a bicycle long distances.
Since that time, Junge has ridden his touring bike with a POC strapped to the rear rack from San Francisco to New York (2004), New York to Cape Spear, Newfoundland (2006), San Francisco to Vancouver (2007), and now San Francisco to Tijuana.
"I'm not letting lung disease slow me down," Junge said. "By conquering the California Coast by bike with the help of my Eclipse portable oxygen device from SeQual, we are showing everyone that being on oxygen doesn't make you home-bound. Everything starts with an idea. The rest is logistics."
"We are greatly privileged to support Mark on his impressive ride, and are hopeful his story will encourage others to seek treatment for their chronic lung disease to continue living an active lifestyle," said SeQual CEO Ron Richard, who rode with Junge for part of his journey from Dana Point, Calif. to Carlsbad, Calif. Richard and Junge were joined by SeQual's outgoing CEO Jim Bixby (who remains on SeQual's board of directors), Vice President of Operations Joe Calabro and HME Business Editor David Kopf.
"Mark Junge is an inspiration to those who live with lung disease," said Chris Garvey, FNP, MSN, MPA, FAACVPR, Manager, Pulmonary and Cardiac Rehabilitation, for Seton Medical Center and longtime volunteer with the American Lung Association of California. Seton Medical Center partnered with SeQual to sponsor Junge, who started his journey from the hospital.
"Lung health is important to everyone and having a lung disease does not mean the end of an active and happy lifestyle," Garvey added. "As Mark's actions prove, regular physical activity, education and support can improve physical function, shortness of breath, fatigue and lessen the risk of hospitalization in those suffering from chronic lung disease."
While Junge's California journey might be completed, the retired historian, writer and photographer is still planning more rides. "I'd like to go around the world," Junge said.