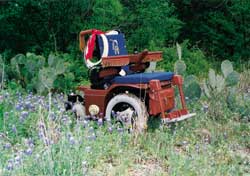 Wheelchair manufacturers used to design and create wheelchairs simply based on the immediate need of consumers to have a product that offered mobility, but now customers are asking for more. They are looking beyond the needs of comfort and durability and they are seeking wheelchairs that can allow them to live the lifestyle they choose — offering freedom and independence instead of limitations and restrictions. And they are looking for wheelchairs that can push past convention and allow for accessibility both indoors and out.
Customers want wheelchairs to accommodate the environment they live in rather than changing their environment to accommodate the limitations of their wheelchairs. Manufacturers of wheelchairs are developing specialty wheelchairs based on consumer demand, and these chairs are breaking down barriers and limitations of the past.
Rick Michael, sales manager of Vestil-Innovation in Motion, Angola, Ind. said he agrees that customers are demanding more from their wheelchairs than in the past.
"Look at the repair shops of wheelchair dealers throughout the United States to see the damage caused by consumers who push the limits of their conventional wheelchairs. They want to go where their source of mobility was not suited to go," he said.
In order to meet the needs of consumers who want and expect more from their wheelchairs, companies are manufacturing specialty wheelchairs – chairs that have more features than conventional models.
---
People want our chairs so they may fully participate with their family and friends. It's no fun sitting at the end of a ramp, restricted to watching everyone else play.
Vestil offers the Extreme 4×4, an all-terrain, four-wheel drive, powered wheelchair otherwise known as the "SUV of wheelchairs," according to Michael.
"Locations previously unavailable to other wheelchair owners are now available with use of this wheelchair," Michael said.
"The Extreme 4×4 is a barrier-free wheelchair that is capable of traversing snow, sand and mud and other terrains off limits to conventional wheelchairs. The goals of developing these types of wheelchairs is to allow individuals to independently go where they want to go," he added.
Not only are customers seeking all-terrain wheelchairs, but they also want chairs that can be customized and they want special add-on features.
Go and Explore Your World
Deming Designs Inc. of Pensacola, Fla. offers stainless steel all-terrain wheelchairs and a variety of options including a manual ratcheting self-propulsion system, custom cushions, umbrellas, fishing pole holders and other options.
"The special features of these chairs include a leg rest that not only raises and lowers, but lengthens and shortens to accommodate different sizes, said Karen Deming, co-owner of Deming Designs.
"The rear suspension has castering wheels and articulates from side to side, allowing all four wheels to stay on the ground even when going over uneven terrain," she said.
Deming Designs also offers a Beach Wheelchair Surf Chair that offers the disabled vacationer beach and park accessibility.
"Our customers definitely push for chairs that allow them access to outdoor environments, especially in tourist destinations. Often people choose vacation spots based upon availability of these chairs," Deming said.
These wheelchairs allow users to actively engage in life.
"Customers want chairs that will last, and support their bodies appropriately, providing hours of comfortable sitting, because even though someone is sitting all the time that doesn't mean they are comfortable," she added.
"People want our chairs so they may fully participate with their family and friends. It's no fun sitting at the end of a ramp, restricted to watching everyone else play," Deming said.
"Our goals revolve around removing these barriers so that everyone can enjoy the same outdoor activities together," she said.
Gendron Inc. Archbold, Ohio specializes in manual and powered wheelchairs for the bariatric patient. Designed for indoor and outdoor use, these super hemi wide seat bariatric wheelchairs meet the needs of this customer base.
"The bariatric population requires unique extra heavy duty construction in a variety of seat sizes, low seat heights, stability and extreme weight heights, said Steve Cotter, vice president of Gendron Inc.
"Customizing is especially important because the requirements of the bariatric user are so unique," Cotter said.
In addition to bariatric wheelchairs, Gendron provides a complete bariatric patient care environment from mobility, transfer, transport, bath safety, as well as seating support and beds.
"Our manual and power base wheelchairs can be designed and built to meet almost any user requirement," he added.
TefTec Corp., Spring Branch, Texas offers The Wrangler, a wheelchair with custom trim to fit a rodeo theme. TefTec also has a farm model that looks like a John Deere tractor and for those who like muscle cars and trucks, there is The Viper, "which is about as good as off-roading gets," according to Tom Finch Sr., president of TefTec.
"We make chairs from lightweights to custom chairs for people who weigh over 700 pounds," Finch said.
TefTec's dealers specify customization based on the requests of their customers. TefTec makes chairs for those without limbs, those totally paralyzed and for those who need special frames. They also offer chairs for customers wanting air conditioning, those who need their chairs to double as a tractor for pulling loads, and those who need special stability and controls.
"The TefTec family of powered wheelchairs is constantly evolving. OmegaTracs built this year have more robust controllers and wiring, making them far more resistant to abuse. FirstClass seats are extremely rugged to match the OmegaTrac powerbases. Flip-up arm rests that lock down are now patented and rugged foot rests are protected by mechanical fuses. Lighting packages, carrier racks and tow hitches and a host of special adaptations are also available," Finch said.
---
Customers want indoor and off road all in one chair. They want to hunt, fish, hike and sight-see.
Finch agrees that customers are pushing for new features. "Customers want indoor and off road all in one chair. They want to hunt, fish, hike and sight-see. They want the capacity to carry an extra passenger on vacations where they are doing the town without a van," he said.
"The OmegaTrac essentially removes barriers and that allows users to go places unassisted in many cases. Many use it to commute and others use it to go through snow that can not be traversed in their dropped floor vans, so they leave their vans at home and use the chair to get to work or the store," Finch said.
When developing wheelchairs that allow customers to go where they may not have been able to in the past, manufacturers never lose sight of durability, safety and comfort.
"The very biggest feature of the OmegaTrac is that it is directionally stable. It does not fishtail even though it is a front wheel drive. For those who must drive with sip and puff or with other very special means this is a valuable feature, often meaning the difference between mobility or none," Finch said.
Customizing wheelchairs is occurring so rapidly that it is hard to imagine the innovations that exist for specialty wheelchairs that are lingering just around the corner. For now, manufacturers of specialty wheelchairs are breaking down barriers, allowing customers to experience life and to always expect more from their wheelchairs.
---
Go and Explore Your World
Jason Marine Enterprises, Coral Springs, Fla. is currently working on a powered version of its current Seeker 1097 model all-terrain wheelchair. The Seeker enables the user to go to the park, participate in sports, play golf with friends, go to the beach, fishing, or shopping at the mall. It is narrow enough to fit through most doorways and it features a removable nylon top to help prevent against the harmful burning rays of the sun.
---
Customers have never before had this opportunity in the wheelchair market to go and explore their outside environment.
"People are finding out about our all-terrain product and its capabilities both indoors and out. Customers have never before had this opportunity in the wheelchair market to go and explore their outside environment," said Brian Gagnon, president of Jason Marine Enterprises.
The Seeker has models to accommodate the adult and pediatric consumer and it can be modified to allow for a child's growth. Uniquely designed hand rims allow for complete hand and finger placement, to provide extra power (propulsion) and better control.
"It is an exciting step for consumers to open up new interests and enhance a new feeling of independence; it gives them opportunities for both outside and indoor fun."
This year Jason Marine Enterprises will introduce a plastic, folding, water-resistant, multiple-terrain wheelchair that can be used in inclement weather as well as hard packed sand, grass, mud and snow.
"This product should be available by mid summer," Gagnon said.
For more information regarding Jason Marine Enterprises, visit www.jmeseeker.com.
This article appeared in the March 2001 issue, Vol. 9, No. 3, pg. 20